The AeroPress is one of the most innovative brewing methods to come along in coffee in a long time. It combines elements of a French Press with many similarities to an Espresso Machine. The result is a smooth cup of coffee with very low acidity. I have been using my Aeropress at home since March and it has quickly become my favorite brewing method for a quick, delicious cup.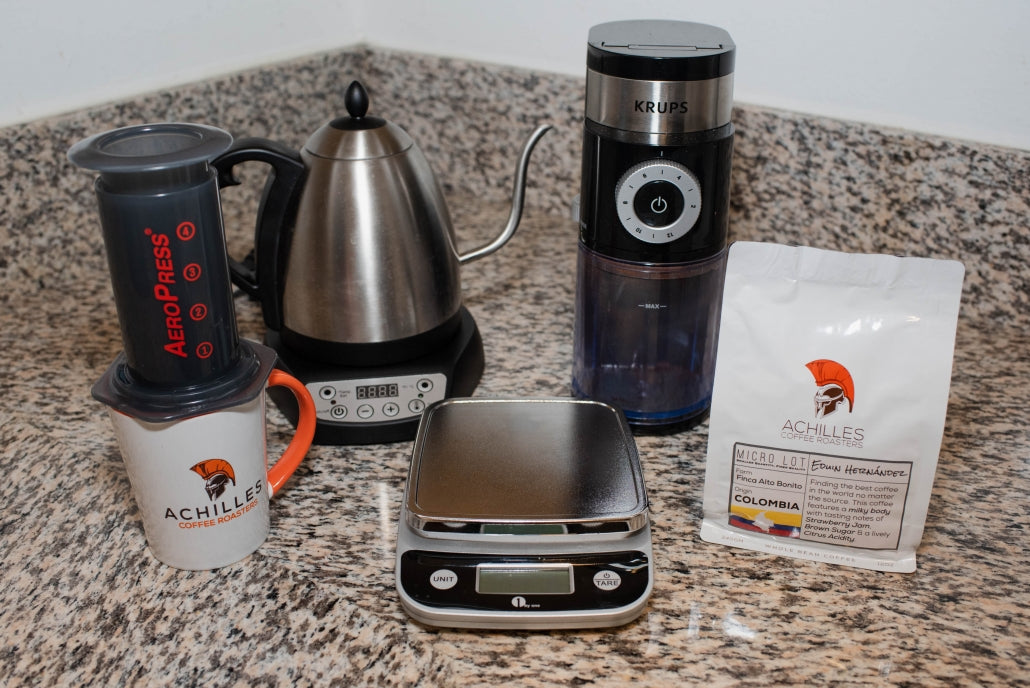 What You Need
To brew a great cup of coffee with an AeroPress we recommend these items:
AeroPress Coffee Brewer
Mug with a sturdy base
Any type of kettle to heat water (We like Gooseneck Kettles)
A coffee grinder (Burr grinders work best)
A common kitchen scale
A bag of coffee (We'll be using our new Eduin roast)
History
The AeroPress was invented by Alan Adler. Adler is an engineer and inventor with over 40 patents under his belt. In 2004 he began studying the coffee brewing process and the design of current coffee makers to create a new way of brewing. By November 2005, Alder was ready to unveil his design and take the coffee world by storm.
Brewing
Remove plunger and twist on filter and cap.

Grind 20 grams of coffee per cup on a very fine setting.

Use the funnel to fill Aeropress with grounds and shake to level off.

Heat water to 175 Degrees and fill slightly above the number of cups you plan on brewing.

Stir for about 10 seconds and let brew for 2 minutes.

Insert plunger and slowly press down. This step should take about 30 seconds or more.

Results
Like I said above, the AeroPress is like an Espresso Machine because the result is only a few ounces of highly concentrated coffee. You can drink it as is or add some more hot water to make it like a traditional cup of coffee. Add hot milk to make a latte or add the coffee to a smoothie for a caffeine boost.
Versatility
The AeroPress can brew more than just coffee. It can also be used to brew Cold Brew and even Tea. Over the Aeropress has become very popular in the specialty coffee world, even hosting its own Championships for brewing. They post the winning recipes on their website for all to try at home.
Why AeroPress?
I love my AeroPress because of its simplicity. It's easy to set up, use, and clean. It's great for mornings when I'd like a coffee without all of the hassles of making a Pour Over. The flavor is always full and consistent. It is a great brewer for home or when you're on the go. I highly recommend an AeroPress for any coffee fanatics looking to add another brewer to their collection or to anyone looking for a hassle-free brewer.
https://achillescoffeeroasters.com/wp-content/uploads/2020/06/DSC_2158-scaled.jpg
1709
2560
Achilles Coffee
https://achillescoffeeroasters.com/wp-content/uploads/2022/01/logo-2-color.png
Achilles Coffee
2020-06-04 16:10:53
2020-06-04 16:12:03
How to Brew at Home: AeroPress